The area of ​​the Nagyvásártelep was an important location for the operation of Budapest: it was once the logistics center of the city's food supply, but with its growth it gradually lost its role. The main character of the hall is given by the atmosphere of the grandiose spaces that still exist today and the façade with a picturesque delicacy that surrounds them as a membrane. The development concept of the area envisages a pedestrian-friendly, close-to-human part of the city, both with its transport and functional division, and with the definition of the role of the spaces. The concept of our plan is based on the creation of a continuous public space connecting the interiors of the hall with the surrounding exterior spaces, for which the existing building provides protection as a kind of historical membrane. Our goal is to restore the cladding, roof and facade of the building according to monument protection aspects, to fill the interiors with life, to preserve their atmosphere, and to make them accessible and livable to visitors.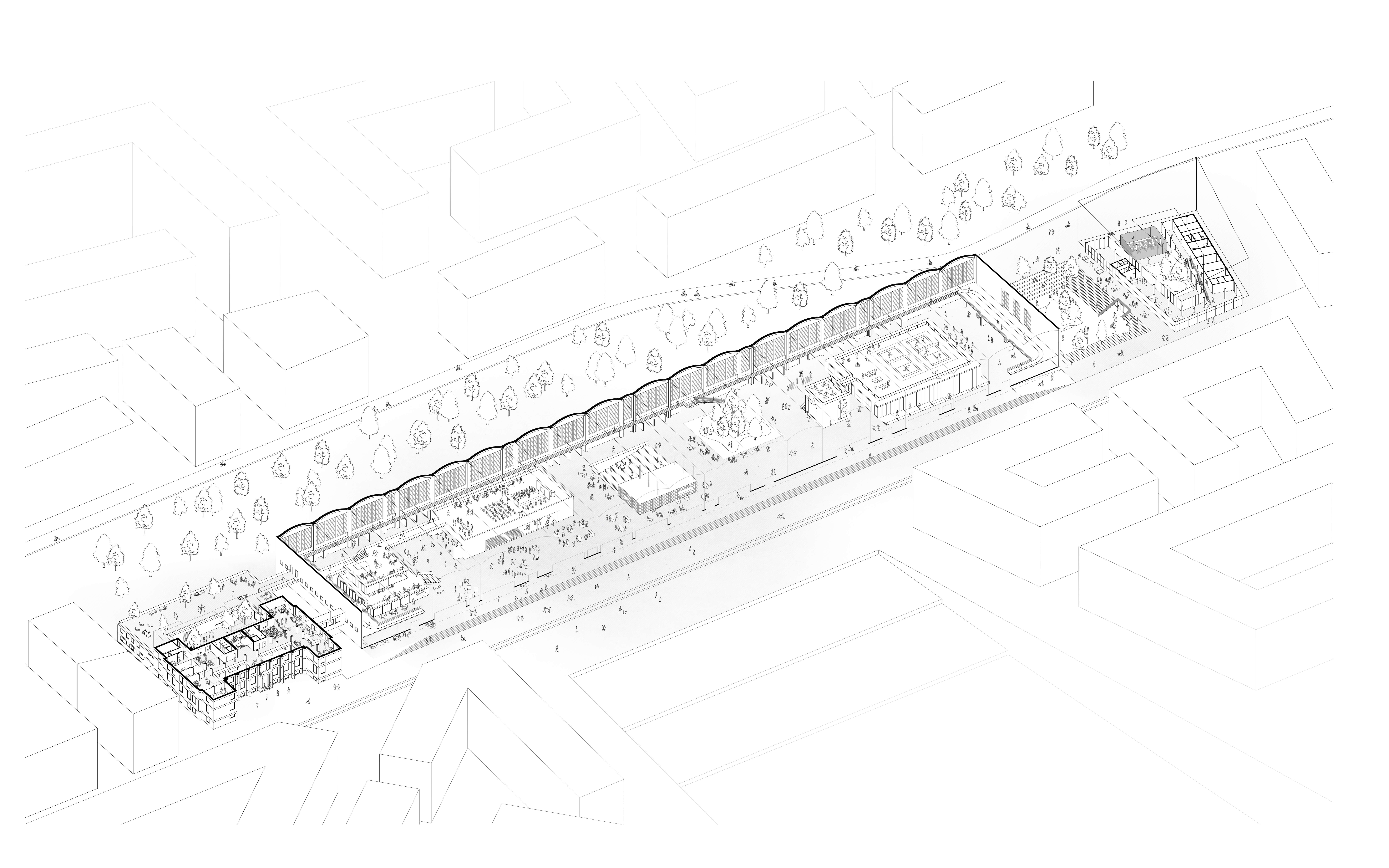 Each function group has its own "building" formed by the unique spatial structure fitting best their roles. With their connections and openings, they determine the atmosphere of their surroundings by their special character. In the large, unified space of the hall, places with a diverse atmosphere and openness are created, which provide a suitable area for various events and activities.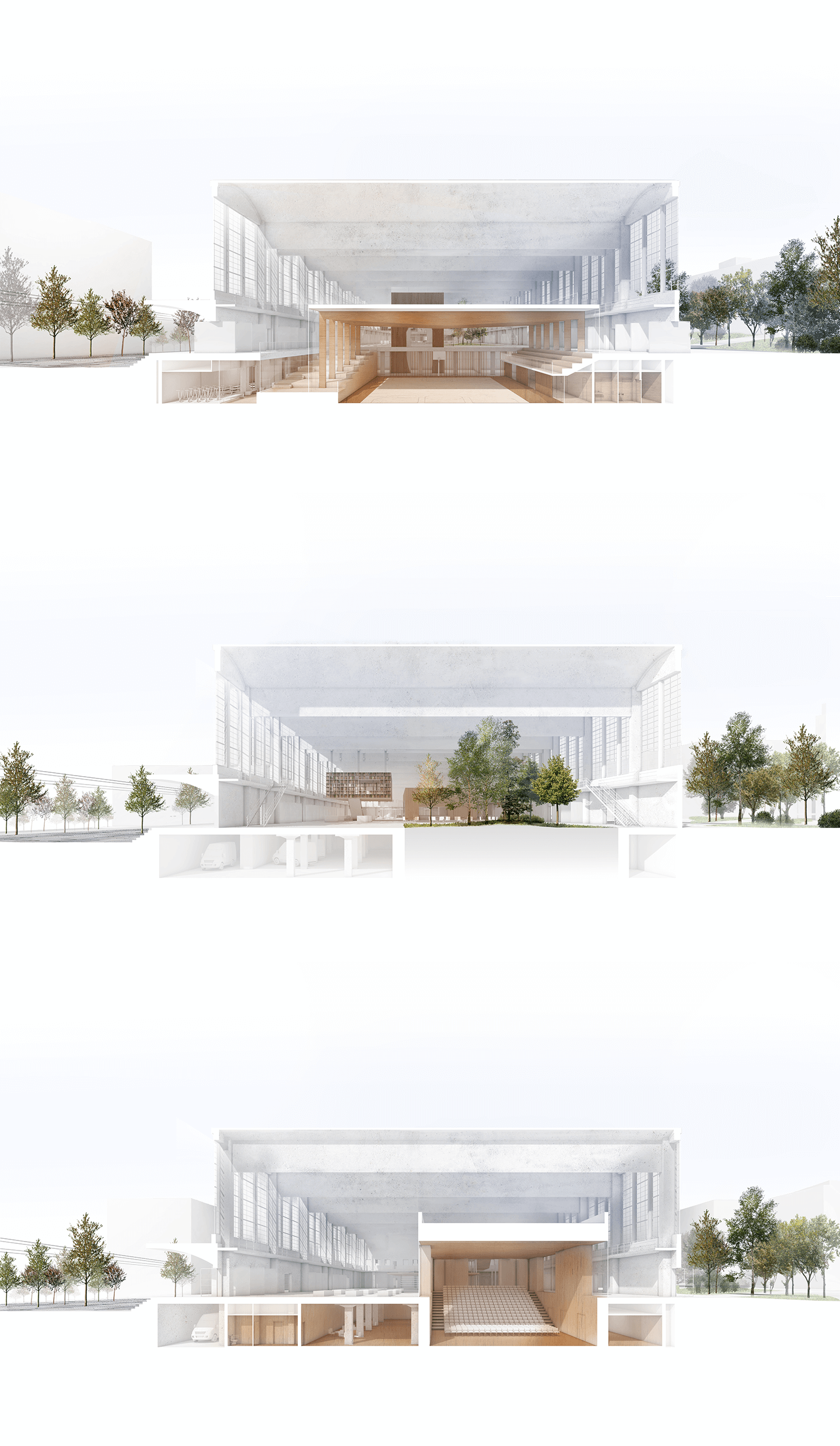 In the interior of the huge hall, a gallery – as a console – extends along the entire length of the building. A cellar lies under the entire area of the hall, with mushroom slab creating a special structural character. At present, the hall level, the gallery and the cellar are basically separate worlds. The continuous public space of our plan visually and physically connects the three levels, which allows the functions to take advantage of the values of their character: only the main parts of the different functions partition the large space, while retaining its original atmosphere.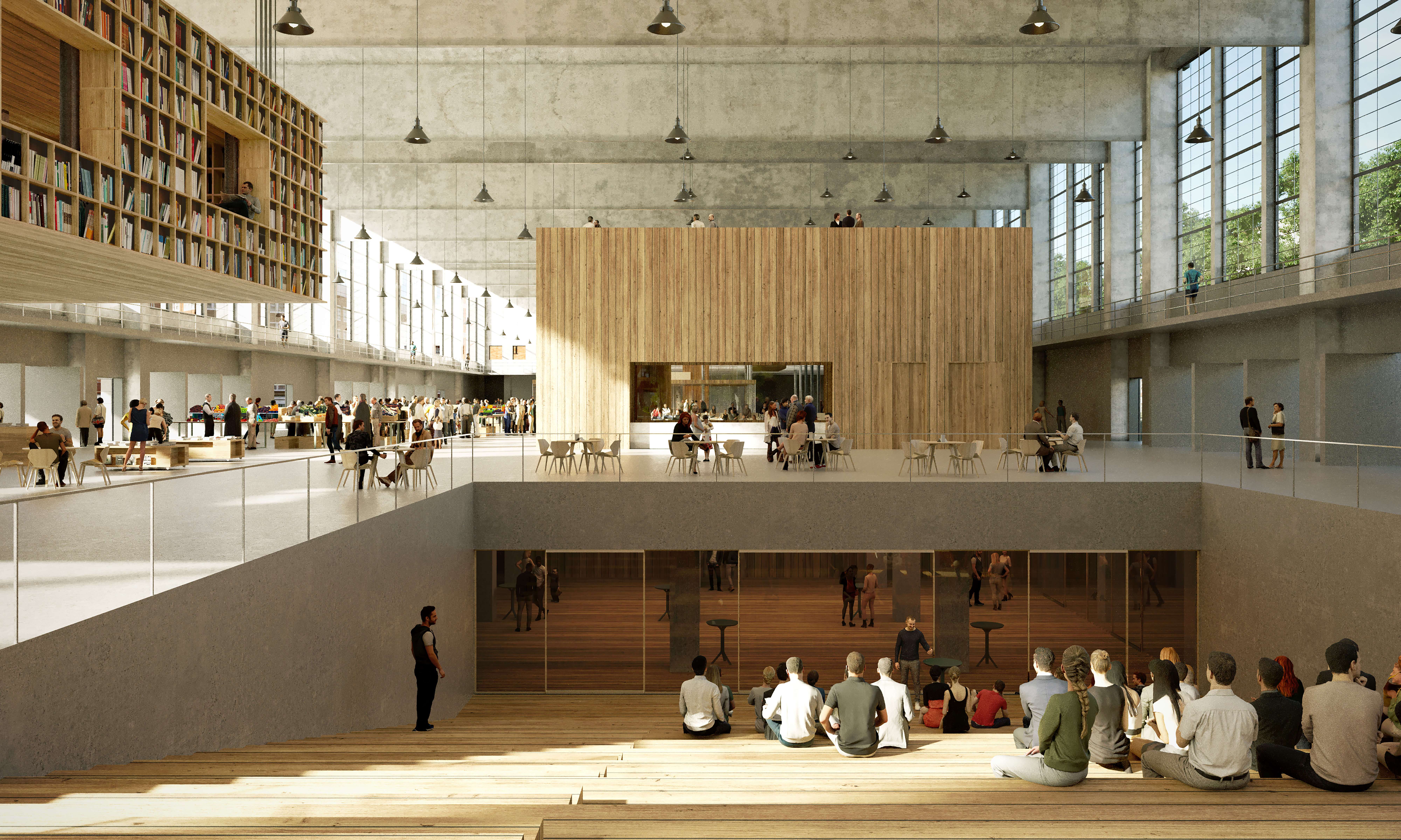 The ground floor and basement of the dormitory is connected to the continuous public space in our plan. It is directly connected to the lowered city square, the sports and event hall is located in its basement. In the open, transparent and interoperable spaces of the ground floor, in addition to the function related to arrival and operation, we have created a community space with a café, which is a diverse area due to its various external connections.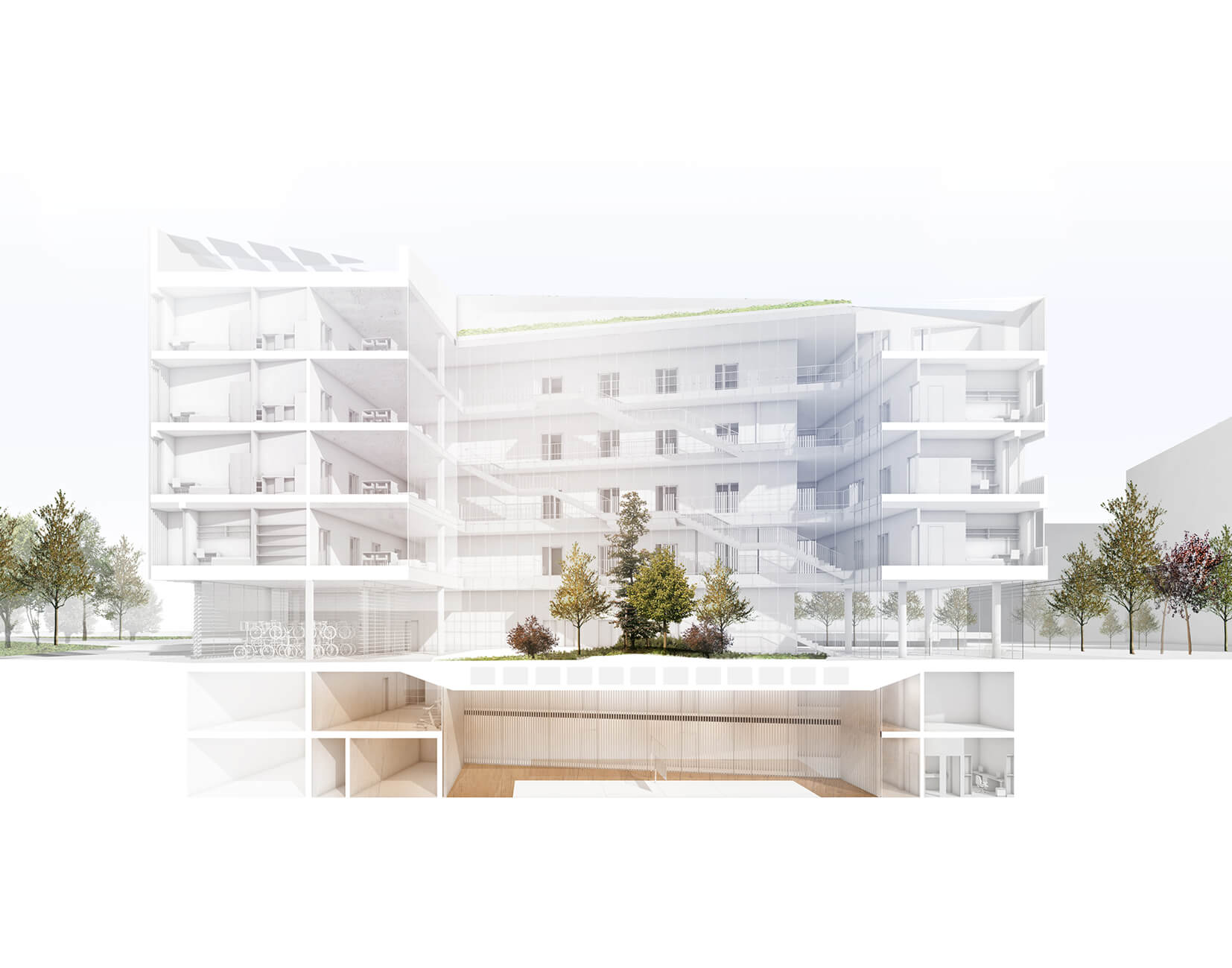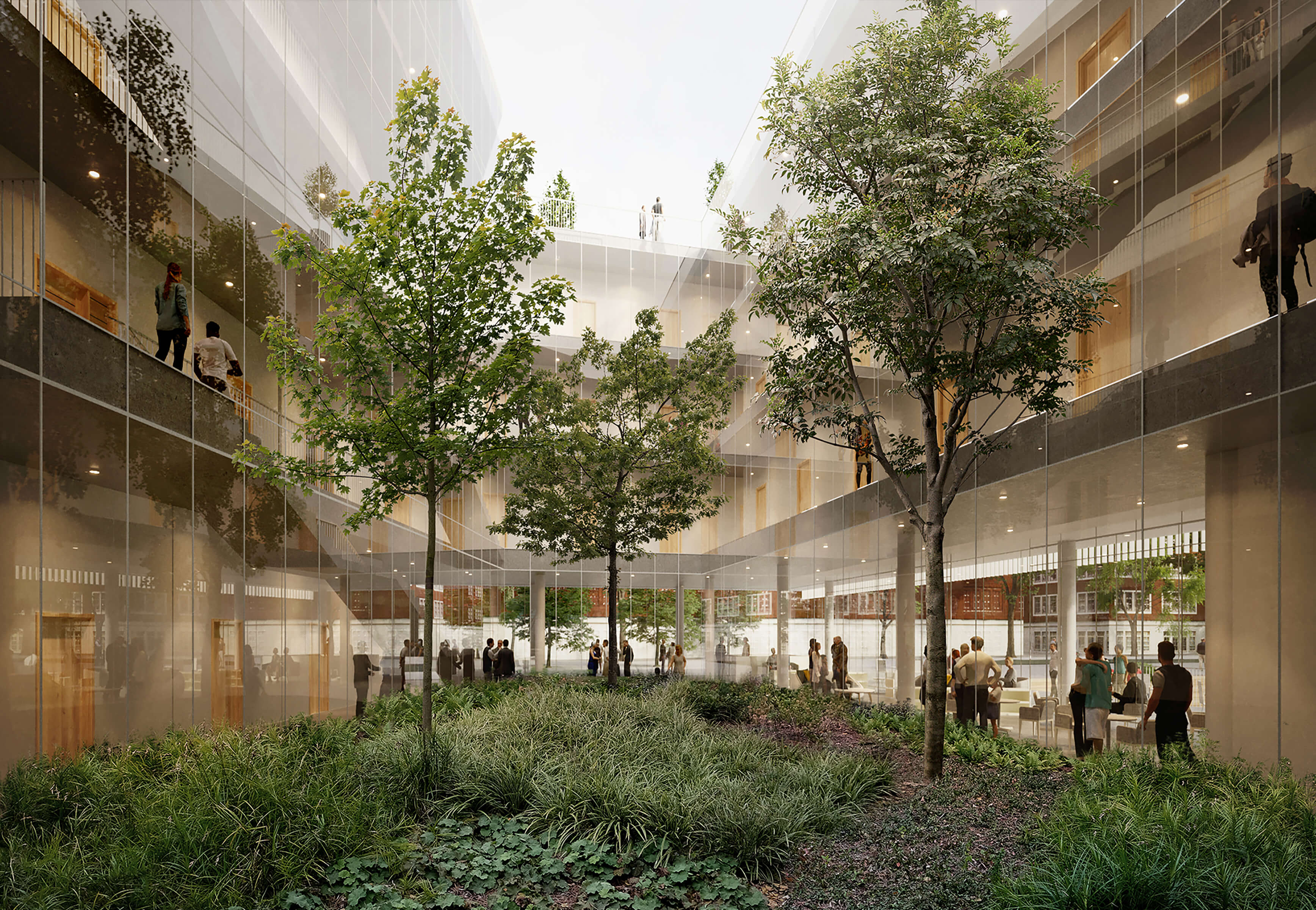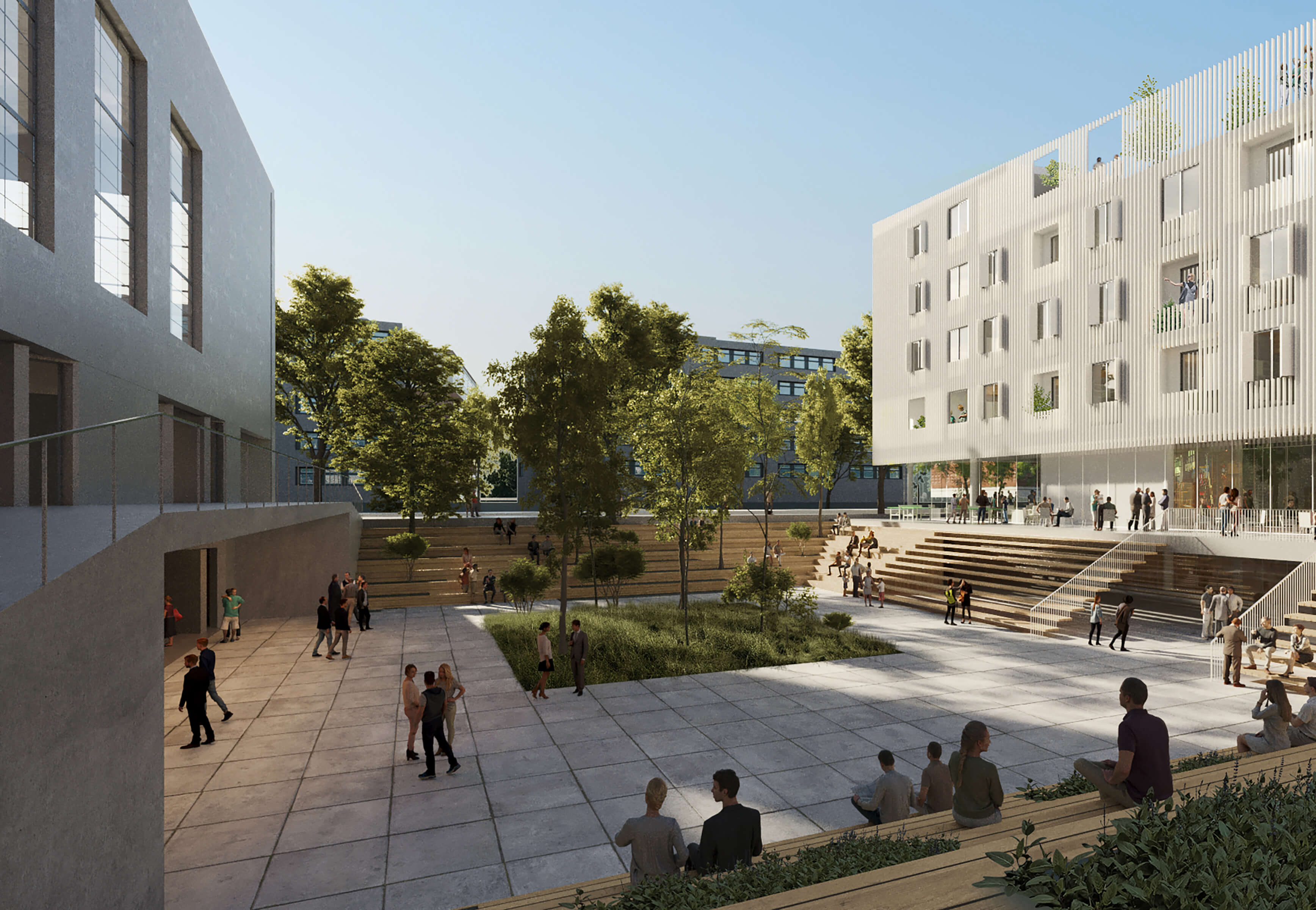 The office building is connected to the continuous public space of our plan with its ground floor and first floor spaces. Here we created a common reception, meeting rooms and a café, as well as co-working areas. On the first floor, the restaurant units near the hall can be accessed from the existing enclosed bridge. On the new open bridge, the terrace of the office building can be connected to the terraced world of the restaurant.