Compared to our other projects, the fictional location of the competition resulted in a much more idealistic design for us. The design is a form study, the rowing as movement, the advance of the boat and its effect on the water are our inspirations.
The way the boat moves forward and the oars dip into the water create a ripple of concentric waves. These waves are affecting the water even when the boat has already passed. It further shapes the waves created by the boat, forming a waving line. The building is formed by the places connecting from the two sides. The space in front of the stands, the pool and beach, or the apartments and the green resting area in front of the club are also shaping the building, just as the waves caused by the oars are shaping the waves left by the boats.

Both during the race and during the preparation for the race, every athlete has their own pace, energy reserve; however, the rush to the finish is included in all their lives. The gradual build-up towards the finish tower, then the outburst of the tower itself represents this rush, the release of the feelings, which built up during the race and the preparation time and the boost of success.

The athletes are affected by different stimuli during their sporting career, during the preparation for the race. This process is shown in the placement of the buildings. The apartments are closest to the start, they represent the idea of home and calmness. They are followed by the functions linked to training, with the participants of the process of preparation, then the buildings in direct connection to the race itself, the spectators also arrive.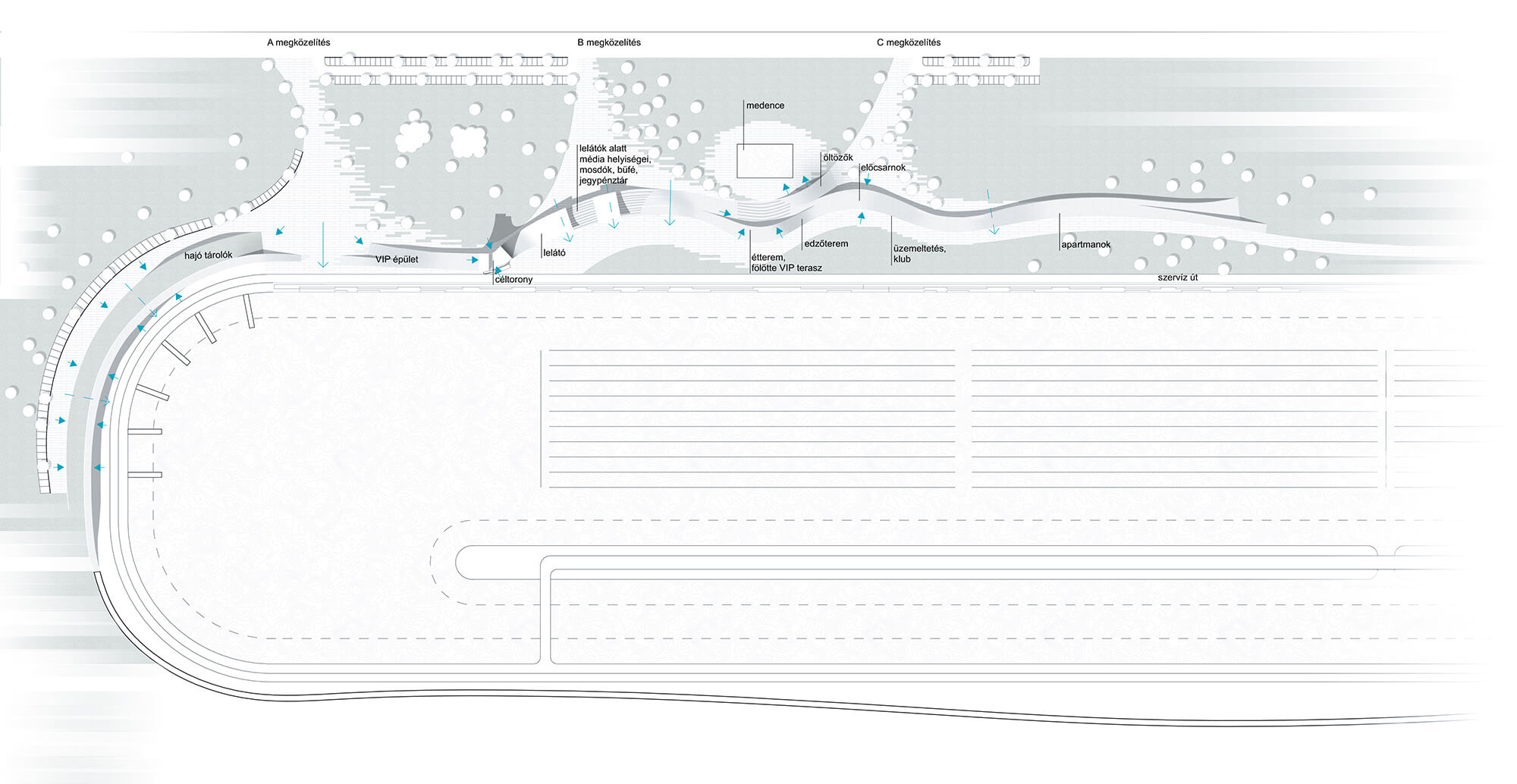 The finish tower is made up of two closed masses and the space in between, looking and opening up towards the course. One of the closed masses includes the stairwell and the elevator shaft serving the vertical traffic, while bathrooms and service areas are placed in the other one. The role of the waves running up on the building is vast. The wave coming from the stands shades them and then goes up the building, it serves as the railing of the VIP balcony. The ones springing from the direction of the water serve as shading for the areas behind them, the flag of the winning team can be projected onto them, and they accentuate the balcony of the announcer on the closed top floor while also serving as railings.