This design competition is part of the development of the home of the University of Public Service, the Ludovika campus. The design, worthy of the purpose of the university and the buildings of the campus shows a clear picture. The design of the mass is distinct, strong, which is mellowed by its relationship with its environment. It is placed on the north-west side of the Orczy Gardens, opposite the ELTE Botanical Garden, and the relationship with the former fundamentally defines the building. Its placement, its design creates a connection between the two parks both physically and visually, while the building itself is in harmony with both parks.
The design of the building is complex in its functions. It is home to the educational spaces of the Institute for Combating Emergencies; it also has a complete fire house and practice yard. The building complex contains the student hall of the Institute and houses the operations units for both the Orczy Gardens and the Campus. The varying operational schedules, opening times of the individual units, the axis of the two main (the pedestrian and service) roads, furthermore the relationship with the street and park organise the functions.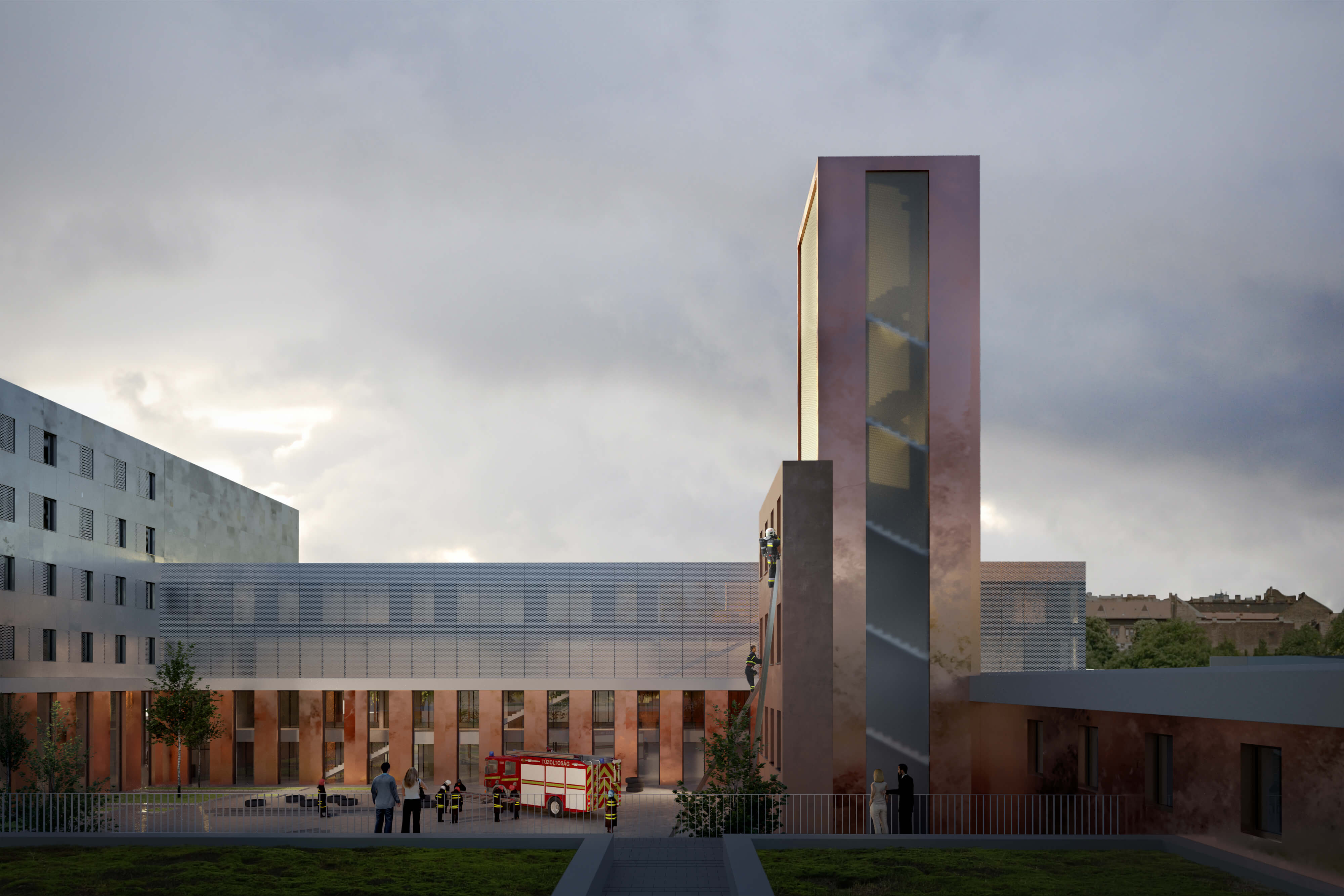 The construction site is surrounded by buildings of various heights. The mass of the designed building adjusts to the neighbouring ones by each mass being higher than the last starting from the park. On top of the single-storey mass by the Orczy Gardens is the dining hall and a public terrace above the kitchen. A view opens from here to the practice yard, which stays sheltered physically, but becomes visually available to the visitors of the park.
The top and bottom half of the building are visually separated. The lower two floors are the base of the building. All the diverse functions in connection with the ground floor and the park are situated here, while the layouts of the upper floors are created by the monotonous multiplying of similar functions. The differences between the base and upper floors are shown both to the outside and the courtyard. However, while the design tools and the choices of materials are the same, the façade shows a very strict, regular pattern to the courtyard, it becomes more freely formed towards the street as a reaction to the environment.
The base of the building, which is the lower two floors has copper coloured metal sheet cladding. Its architecture is defined by the rhythm of the distribution of the open and closed masses. The rooms above the bae of the education unit open up to the parks and the environment through large glass surfaces. A perforated net is placed in front of the glass surfaces, connecting the two upper floors, creating adequate shading for the rooms. The mass of the student hall has light coloured solid metal sheet cladding.